Made To Order Grilles in 6 Easy Steps
Since our doors first opened in 1978, Reggio Register has witnessed the evolution of interior design trends and the growing discernment among buyers and homeowners about the products installed in their interior spaces. For many years, a few popular metal grille and register designs have been the standard, but nowadays those few designs just won't do. With the emergence of big-box stores and commodity home goods, customers want more styles to choose from, where they feel like the product was specifically designed for their space. In conjunction with wanting more design options, customers expect lower prices and reasonable lead times.
It was these customer requirements that inspired our new Made to Order Collection of grilles and floor registers, featuring new styles with enhanced product options that are engineered for specific installation types. Now customers can have the style options they desire along with installation-specific product options that compare to custom made floor registers and grilles—all with great pricing and speedy lead times.
We are excited to bring this new level of grille options to the market, and recognize the importance of educating customers on the different available product options. Next, we walk you through the six easy steps to design and order the right grilles and registers for your project.
Step 1: Know Where You Will Install The Made to Order Grilles
Before ordering your new Made to Order grilles, you need to identify where you will be installing them. The most common applications are floor, wall and ceiling. The vent you will use on your floor will vary depending on traffic patterns. At Reggio Register, we recommend specific materials and distinct material thicknesses for different installation applications.
For example, in high traffic areas, our cast Heritage Collection and Made To Order Steel (¼") is best suited, with the exception of bathrooms, where we recommend our rust-proof Aluminum.
Knowing where the grilles will be installed helps identify the best vent thickness to ensure long-term durability. Download our Made to Order Collection Buyers Guide for more information on material selection and thickness by installation type.
Download Made to Order Collection Buyers Guide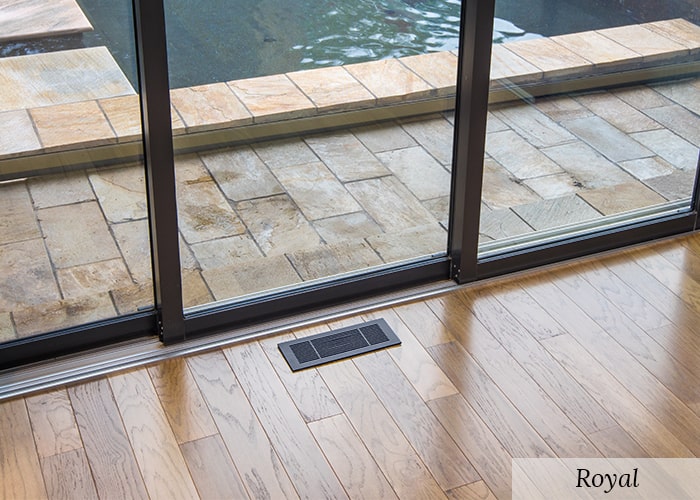 Step 2: Choose Your Design
The design of your home is guided by personal preferences, and it is often the small details that make a house a home—your home. This is where you get to add unexpected design flair to your interiors. When it comes to picking out your small details this is where it really gets fun. Choosing "swag fixtures" for a home is a big trend in 2020 according to Forbes.com as people learn how easy it is to accessorize and style up space. Just like choosing a new lamp, piece of furniture or tapestry, you can tailor new grille designs around your carefully curated space.
Just like you customize your home and choose from a variety of designs so you can choose the look that best reflects you, your home, and the style you want to create. No matter what style home you have, our Made to Order Collection is designed with interior trends in mind. Whether it is a traditional Arts & Crafts, to period Colonial and Victorian or something modern and contemporary, you'll be able to find the look that is right for you. Our Made to Order grilles are a unique architectural feature that endure the test of time.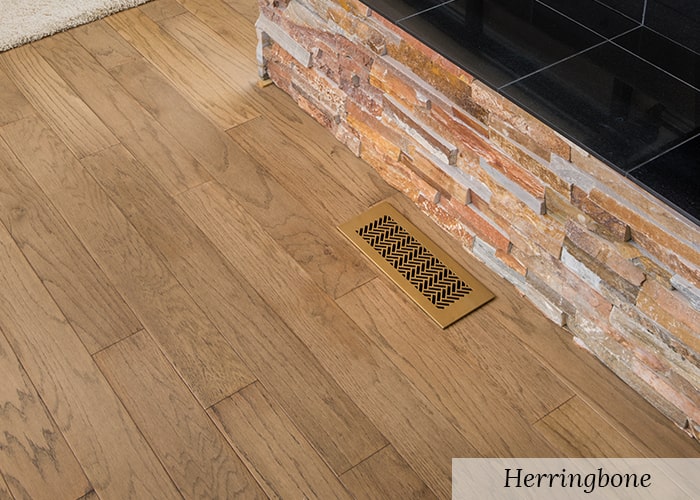 Download our complete Made to Order Collection Buyers Guide to see our design tips for matching grille styles to your home style!

Step 3: Confirm Grille Size
Download our complete Made to Order Collection Buyers Guide to see our design tips for matching grille styles to your home style!

The size of your vent will be determined by your heating and cooling system duct openings. If it is a replacement grille, then lift out the old vent cover and measure the opening in your floor, wall or ceiling. If it is a new construction grille, then simply measure the opening in your floor, wall or ceiling.
The width and length of your opening should match the width and length of the "Inside" grille measurements. The grille thickness is determined by where the grille will be installed.
Step 4: Choose Material Type
The Reggio Register Made to Order Collection is available in steel and aluminum. These two materials allow us to offer our clients versatility in a variety of applications. For example, a customer can use the same vent design throughout a home, but change the material depending on its installation location (high humidity bathroom vs high traffic kitchen).
When installing in bathrooms, Aluminum is the ideal material as it is rust-proof. For bathroom floors, we recommend Cast Aluminum (½" thickness). For bathroom walls and ceiling, we recommend Made to Order Aluminum (3/16" thickness).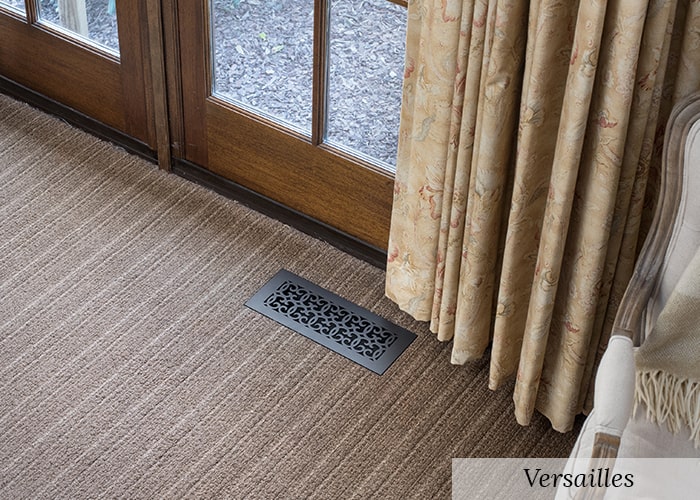 Download our complete Made to Order Collection Buyers Guide to see our design tips for matching grille styles to your home style!

Step 5: Choose Grille Finish
A popular question we receive from customers is "what Finish should I choose?" There are a few things to consider when answering the question:
The Finish is very much a personal preference, similar to the design option selected.
The Finish selection may be informed by the color of other hardware and fixtures that are already present in the home.
If you are buying a floor grille, then the Finish may complement the floor color.
In 2020, according to designer Kaitlin Madden, there will be a shift in accent colors from brass to silver. Reggio Register has the perfect silver Finish to match this trend, plus five more finish options. Want to use Etsy's Color of the Year - Chartreuse? (see slide 2) Reggio Register offers a matte gray Finish that is perfect for painting custom colors.
Download our complete Made to Order Collection Buyers Guide to see our design tips for matching grille styles to your home style!

Step 6: Select Optional Installation Features
When ordering Made to Order grilles, there are three optional installation features to consider – underside lip, mounting holes, and louvers. These have little impact on the grille design, but will determine how your grille is installed. Your installation type will also help determine which optional installation features you choose. For example, with floor installations, you may choose an underside lip to hold the grille in place, rendering the mounting holes as an optional method to secure the grille in place. With wall and ceiling installations, you always want mounting holes.
The underside lip is used to hold the grille in place. It is not needed for grilles if they are installed in the wall or ceiling. In order to use the underside lip, your vent opening must be cut to the exact "Inside" measurements or a little bit bigger, otherwise the underside lip will not fit. We always say measure twice.
If you don't want to use an underside lip, or are unable to use one due to the area where it is being installed, you would either recess the grille so it's flush with the floor, or order the grille with mounting holes to hold it in place.
The mounting holes are required for grilles being installed in the walls and ceilings. They are optional if you are ordering floor grilles but some clients enjoy the peace of mind of screwing the vents into the place in high traffic areas and since they can be removed by children.
When you order grilles with mounting holes, they will come with holes and screws and be ready for mounting. When you order grilles with no mounting holes, they will be placed over your floor duct opening and either flush mounted or ordered with an underside lip to hold them in place.
Our louver assemblies are designed to fit behind our grilles to control air flow and increase heating and cooling efficiency. Louvers are mounted independently of the grille and can be opened and closed with a screwdriver. With some grille styles, the grille may need to be removed to adjust the louvers. We provide foam strips for installation with each louver.
When cutting out the space for the new grille, be sure to allow 2 5/16" clearance for louvers behind the grille.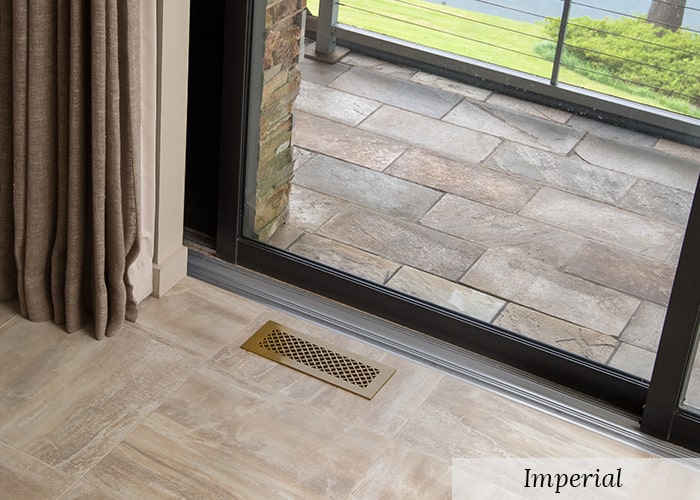 Download our complete Made to Order Collection Buyers Guide to see our design tips for matching grille styles to your home style!
Benefits of Reggio Register
Reggio Register has been making grilles and registers since 1978. We know that grilles and registers are a small and important detail to your home. We know customers want a premium product and with a look that is unique to their home design style. Choose from:
32 sizes
9 styles
6 colors
2 thicknesses
2 materials
With Reggio Register you can get that premium look, without breaking the bank plus quick lead times. Our Made to Order Collection has a 1-2 week lead time, so now you can get the perfect look in a short amount of time.
Download Our Complete Made to Order Collection Buyers Guide